Last minute French bombing flattens England!!
Zinedine Zidane finds the back of the net in the 93
rd
minute of the match as France go on to score a famous famous win against England. Just a minute before this penalty kick, Zidane's magic brought France on level with England. Pardon the terrible quality of the pic. I was just too excited to hold the phone steady!! ;-)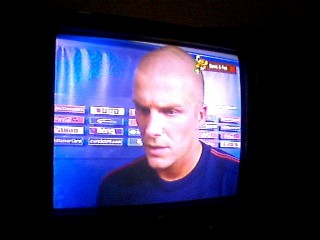 Oh boy! What a night he's had!! Carrying the weight of a nation on his shoulders proved to be a bit too much for Becks as he missed a penalty kick. Here he is looking absolutely shattered in the post-match interview.
Posted by Hello